Planning to say 'I do' in the Netherlands and looking for the perfect spot? As a wedding photographer, I've had the pleasure of capturing some truly heart-warming moments between couples. And let me tell you: choosing the right venue is of key importance. It sets the tone for your big day, and creates a backdrop for all those memories you'll cherish forever. That's why I wanted to share my favorite wedding venues in the Netherlands with you.
Whether you're after a traditional, romantic, or modern vibe, these spots will make your wedding day truly unforgettable.
Here are my top picks for wedding venues in the Netherlands!
De Hazelhof: a dreamy retreat in the countryside
Located in the Dutch countryside, De Hazelhof is a charming wedding venue surrounded by lush greenery. It's the perfect choice for couples looking for a romantic and intimate spot for their special day.
With both indoor and outdoor spaces, this venue offers you the flexibility to create your dream wedding – just the way you imagined it! Say your vows in the beautiful gardens on a summer afternoon. Or exchange them inside the spacious renovated farmhouse, surrounded by autumn trees in fall or snow-covered fields in winter.
If you're looking for an idyllic location with a peaceful and serene atmosphere, then look no further than De Hazelhof. It truly is one of the dreamiest wedding venues in the Netherlands.
Tuin De Lage Oorsprong: a charming and romantic garden
Another one of my favorites is Tuin de Lage Oorsprong. This beautiful Dutch garden is a popular spot for weddings, and for good reason. It dates back several centuries, and has a rich history that adds to its charm and character.
What I love most about this venue is the gorgeous backdrop it provides for your wedding ceremony. You can choose to have your ceremony in the romantic rose garden, under the shade of centuries-old trees, or inside the venue's charming greenhouse.
All in all, Tuin de Lage Oorsprong is the ideal location for a casual summer wedding in the Netherlands. It's a gorgeous outdoor venue with a laid-back, romantic vibe. But even if the weather is not on your side, the cozy indoor space is just as lovely!
Domaine d'Heerstaayen: a stylish and elegant vineyard
If you're looking for a more traditional and stylish wedding venue in the Netherlands, then Domaine d'Heerstaayen is the spot for you. This gorgeous venue is located in the countryside, and offers a perfect balance of natural beauty, elegance and luxury.
Originally a vineyard, Domaine d'Heerstaayen is home to several outdoor areas, including a romantic orangery, a shaded orchard, and a large open field surrounded by greenery. This makes it the ideal wedding location for a spring or summer ceremony. And in case it starts to rain, you can easily move your ceremony to the cozy and intimate greenhouse, with a view of the colorful gardens.
Are you dreaming of a timeless and elegant wedding, surrounded by natural beauty? Then I highly recommend Domaine d'Heerstayen. With its beautiful grounds, luxurious dining area, and serene atmosphere, this venue has everything you need for an unforgettable day!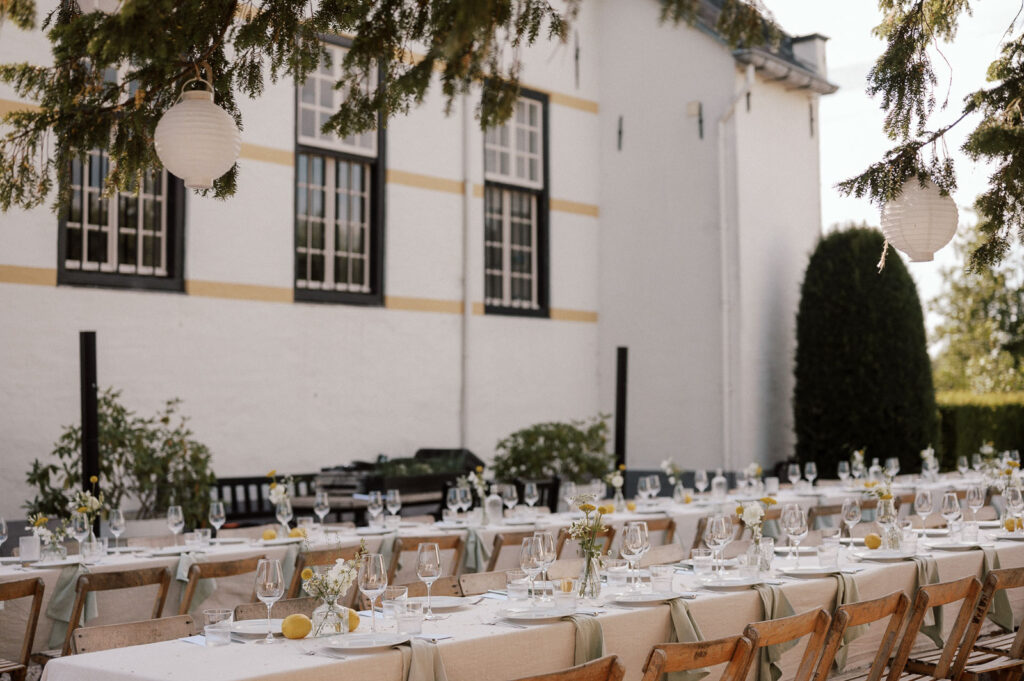 Slot Doddendael: a historic wedding venue in the Netherlands
Last but not least: Slot Doddendael. This gorgeous castle is located near the historic city of Nijmegen, and dates all the way back to the 12th century. It's been beautifully restored to create a unique wedding venue with a truly magical atmosphere.
Slot Doddendael features a variety of indoor and outdoor spaces, making it a great choice year-round. If you're planning a summer wedding, you'll love the romantic gardens with their stunning courtyard. Prefer to get married in winter? You can also choose from several elegant indoor areas, including a historic chapel and a large ballroom with room for up to 200 guests.
Always dreamt of getting married in a castle? Then Slot Doddendael is the perfect location for you! It's by far one of the most unique and enchanting wedding venues in the Netherlands.
The Netherlands is home to many gorgeous wedding venues. From fairy-tale castles to romantic gardens, each location offers a unique and special setting for your big day. So take your pick and start planning the wedding of your dreams!
Which of these romantic wedding venues would be perfect for you?