How to Plan the spain wedding of your dreams
Thinking of planning a destination wedding in Spain? Then you've made a great choice! With its enchanting scenery, vibrant culture, and sun-kissed beaches, this fascinating country provides the perfect backdrop for your special day.
But choosing Spain as your wedding destination is just the beginning. As a seasoned wedding photographer, I've seen first-hand how complicated organizing a wedding abroad can be. That's why I've created this in-depth guide – to help you navigate the process. Let's start planning a truly unforgettable Spanish wedding!
Why Spain is the perfect wedding destination
As a photographer, I've been lucky enough to capture many beautiful wedding ceremonies all around the world. However, Spain holds a special place in my heart. This gorgeous country is the perfect destination for a vibrant and romantic wedding - whether that's an intimate ceremony on the beach, or a grand fiesta with all your friends and family. Here's why!
1. Rich culture and hospitality
First, let's talk about the heart of Spain: its rich culture and generous hospitality! If you're looking for a wedding destination with a lively and welcoming atmosphere, this is the place for you. Spain is known for its mouthwatering cuisine, passionate flamenco performances, and parties that last well into the night, offering you a truly exciting cultural experience.
Plus, the Spanish are some of the warmest and friendliest people you'll ever meet. So you can be sure you and your guest will feel right at home!
2. Spectacular landscapes
Spain is also renowned for its incredibly diverse and stunning landscapes. From the dramatic cliffs and pristine beaches of the Costa Brava, to the lush, rolling vineyards of La Rioja, this country will take your breath away. Imagine saying "I do" with a view of the Mediterranean Sea, or surrounded by picturesque hills and rugged mountains. Sounds pretty magical, right?
3. sunshine Year-Round
Another plus of planning a wedding in Spain? The fantastic weather, of course! Blessed with a sunny, Mediterranean climate, Spain allows you to plan the outdoor ceremony of your dreams - pretty much any time of year.
4. A variety of wedding venues
Last but not least, Spain's got a wealth of amazing wedding venues. Are you dreaming of a fairy-tale ceremony in an ancient Andalusian castle? Or would you prefer to host your reception in a sleek, seaside villa on Ibiza - or a rustic farmhouse in La Rioja? With so many great options, you'll definitely find a spot that's fits your dream day!
Ultimate Guide to planning a wedding in Spain
Okay, so you're fallen head over heels for the idea of a Spanish wedding – and who can blame you? But now comes the nitty-gritty of actually planning your big day. No need to worry though, I've got your back! In this article, I'll walk you through the steps of planning the perfect wedding in Spain.
Here is everything you need to know about getting married in this beautiful country!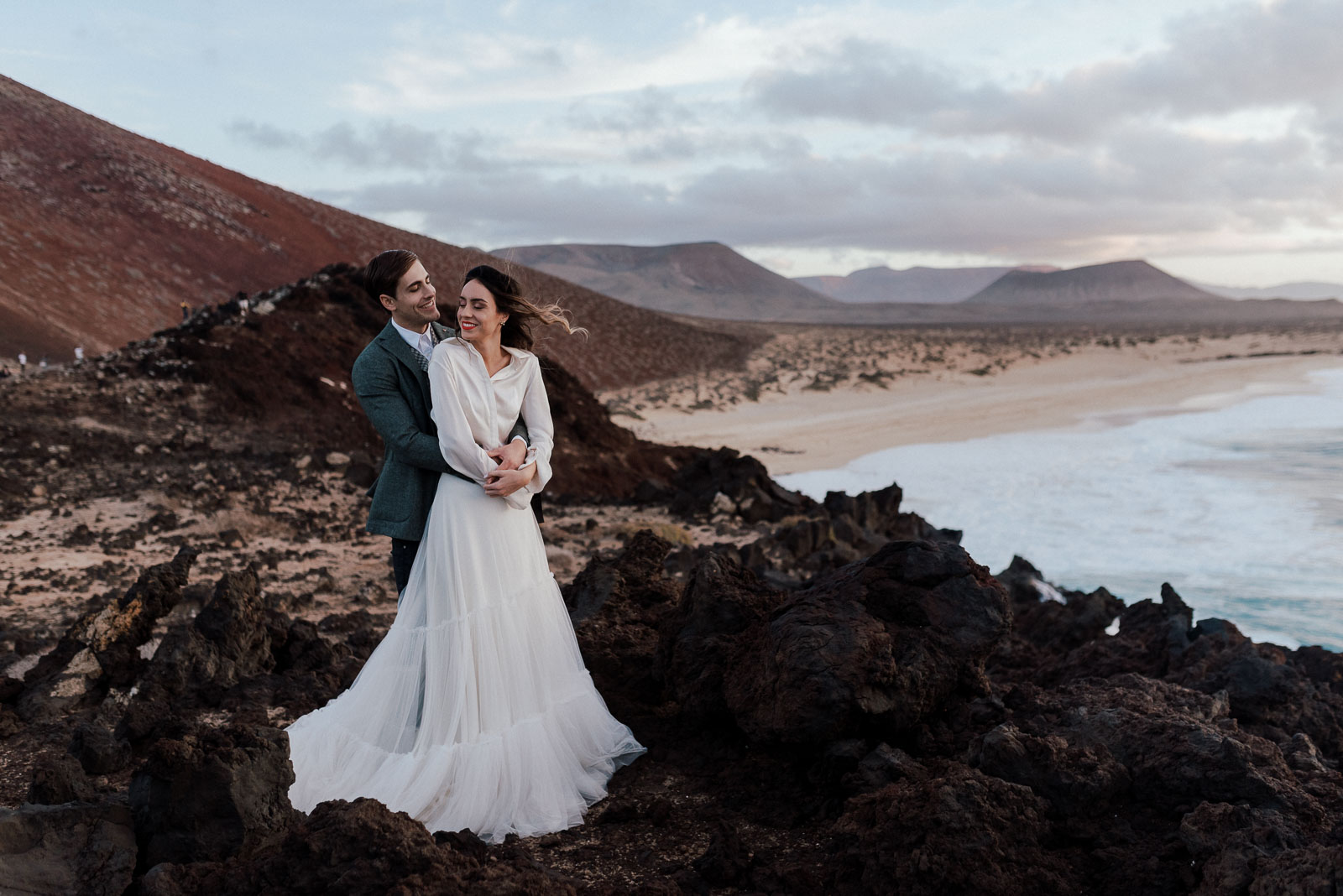 1. Top Locations for a destination wedding in spain
So you've decided to say "I do" under the Spanish sun, congratulations! But where exactly in this vibrant country will you tie the knot? Let's explore some of the most enchanting wedding destinations in Spain.
Andalusia
Home to flamenco, tapas, and breathtaking sunsets, Andalusia's seductive charm is hard to resist. Imagine your special day in a rustic hacienda, surrounded by green hills and olive groves, with the sweet scent of orange blossoms filling the air. Doesn't that sound like an absolute dream?
Costa Brava
Have you always dreamt of getting married by the sea? Costa Brava, with its rugged cliffs and azure waters, is the perfect destination for a romantic beachfront ceremony. Trust me when I say: the wild beauty of this place offers an incredible backdrop that you'll remember forever!
Ibiza
Ibiza is more than just parties - beyond its nightlife, the island has a relaxed, bohemian vibe. Picture whitewashed villas, secluded sandy coves, and fiery sunsets painting the sky. So whether you're planning an intimate beach wedding, or a luxurious villa celebration, you can be sure Ibiza has something to suit your style.
Canary Islands
Dreaming of a tropical wedding? Then head south, to the Canary Islands! With their golden beaches, lush botanical gardens, and year-round sunshine, these islands offer the ultimate paradise vibe. You can exchange your vows while standing barefoot on a sandy beach, or surrounded by colorful flowers in a tropical garden. Whatever you choose, your day will be filled with sunshine and joy!
La Rioja
For wine lovers, there's no better spot than La Rioja. Here, you can have your wedding ceremony in a romantic vineyard, with the stunning Cantabrian Mountains in the background. And as the sun dips below the horizon, you can toast to your future with some of Spain's finest wines, creating unforgettable memories with your loved ones.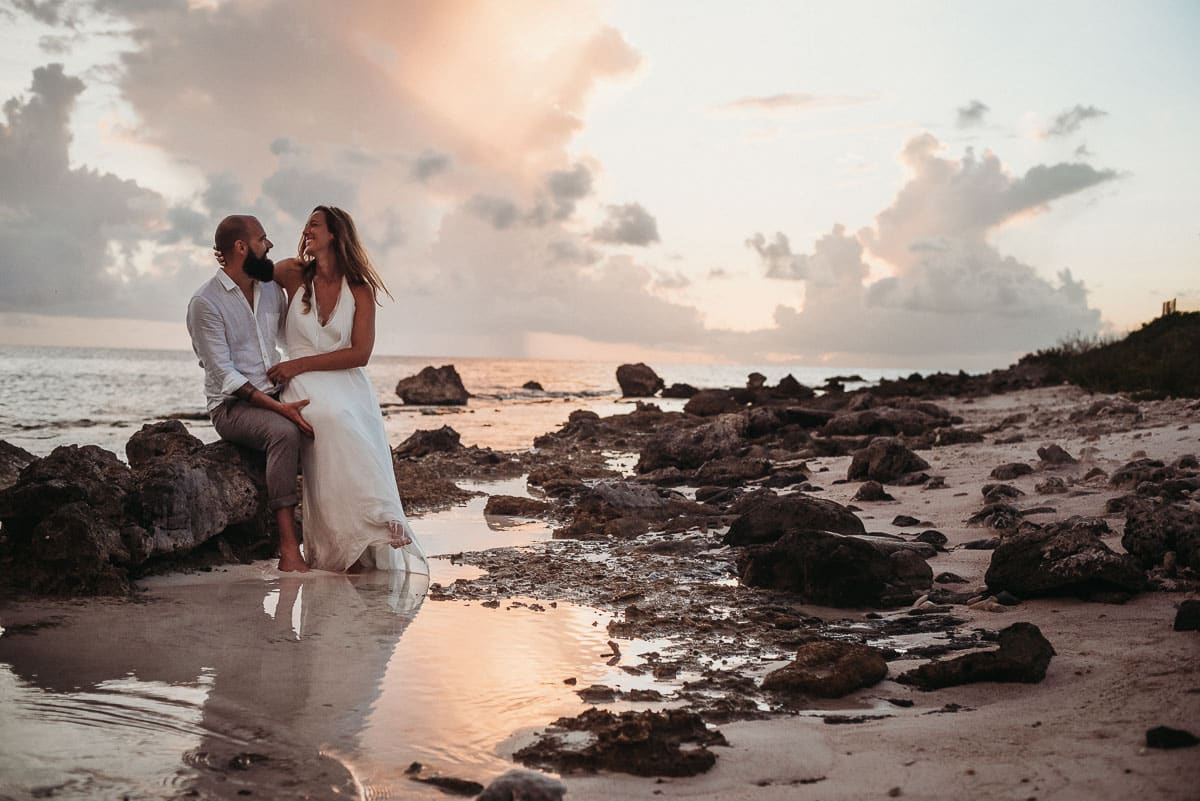 Barcelona
If you adore cities, consider Barcelona as your wedding destination. With its unique blend of urban cool and historic charm, this city promises a truly unforgettable wedding experience. You can say your vows in a majestic cathedral, an elegant Art Nouveau building, or a trendy rooftop bar with panoramic views. Plus, Barcelona's rich culture and bustling nightlife ensure your guests will have a great time.
Mallorca
The stunning island of Mallorca, with its crystal blue waters, sun-kissed beaches, and picturesque towns, feels like a fairy-tale brought to life. From rustic farmhouses to glamorous seaside villas, this island offers an array of breathtaking venues. And when the sun sets, your special day becomes even more enchanting!
Valencia
For the perfect city and beach combo, Valencia should be your top pick. Located on the Spanish coast, this lively city is full of old-world elegance, modern flair, and laid-back vibes. It's a place where every moment feels like a celebration! So no matter how you envision your big day, you can be sure Valencia's vibrant energy will make it something truly special.
2. Setting a date for your spanish wedding
Planning your Spanish wedding is more than setting a date – it's about capturing a feeling, a moment in time that you'll treasure forever. And part of that magic is choosing the perfect season for your dream ceremony.
Spain, with its stunning seasonal variety and rich cultural tapestry, has something special to offer every couple, every time of year. Whether you love the idea of a romantic summer wedding or a cozy winter celebration, this country's got you covered! So, as you start planning a wedding in Spain, take a moment to consider which season most aligns with your personal love story and your dream vision.
Let's dive into the enchanting rhythmn of Spain's seasons to find the perfect fit for your special day!
Best for: A magical outdoor ceremony
Spring and autumn in Spain are the ideal seasons for a magical outdoor ceremony. Between April and June, and again from September to October, the country is filled with a gentle warmth, a peaceful atmosphere, and an abundance of natural beauty.
In springtime, Spain's landscape comes alive with blooming flowers, while autumn bathes the scenery in a captivating golden hue. This is the best time of year to celebrate your love in a lush vineyard or elegant garden, with nature acting as your picture-perfect backdrop!
Best for: a romantic beach wedding
Summer in Spain, stretching from June through August, is a time of radiant sunshine and lively celebrations. This season is ideal for a romantic beachfront wedding or a relaxed ceremony in a beautiful seaside villa.
If the summer heat feels too intense, consider the cooler northern regions of Galicia, Cantabria or La Rioja. Alternatively, you could plan for a late evening ceremony. This way, you can enjoy a breathtaking Spanish sunset and take advantage of the balmy summer nights for an unforgettable reception under the starlit sky.
3. legal requirements for a wedding in Spain
Now that you've chosen a destination and date for your special day, let's get into the practical side of planning a wedding in Spain. It might seem a bit intimidating at first – but don't worry, with a little guidance and careful planning, you'll have your Spanish wedding set up without any hiccups!
And if you're wondering whether of not you can get married in Spain as a foreigner… The answer is yes! This beautiful country welcomes couples from all over the world to tie the knot under its sunlit skies.
In Spain, you can choose between 3 types of wedding ceremonies: civil marriages, religious ceremonies, and symbolic ceremonies. Each has its own character and requirements. Let's break these down one by one!
Do you prefer a hassle-free wedding? Then a symbolic ceremony might be your best choice. This type of ceremony isn't legally binding, which means you can bypass all the paperwork and residency requirements.
Most couples have a legal ceremony in their home country first, then come to Spain for the symbolic celebration. This way, you can tailor the ceremony to your own individual taste. You'll be able to create a truly unique and personal experience that both you and your guests will remember for a lifetime!
If you dream of a religious ceremony, Spain provides the perfect setting to bring this dream to life. For Catholic weddings, one partner needs to be of Catholic faith, and neither should be divorced. Also, you'll need baptismal and confirmation certificates, as well as permission from your home diocese.
If you're Protestant, Jewish, or Muslim, you can also have your religious wedding in Spain. However, these ceremonies aren't legally recognized, so you'll have to combine them with a civil ceremony for legal validity.
A civil marriage is a legally recognized union carried out by a government official. Bear in mind that for this type of ceremony, at least one of you needs to be a Spanish citizen, or have lived in the country for at least 2 years.
Civil marriages are known for their simple elegance. Typically held at a city hall, they focus on your commitment to each other, with personal touches like custom vows and favorite songs adding a dash of individual charm. It's a practical yet beautiful way to legally formalize your marriage in Spain!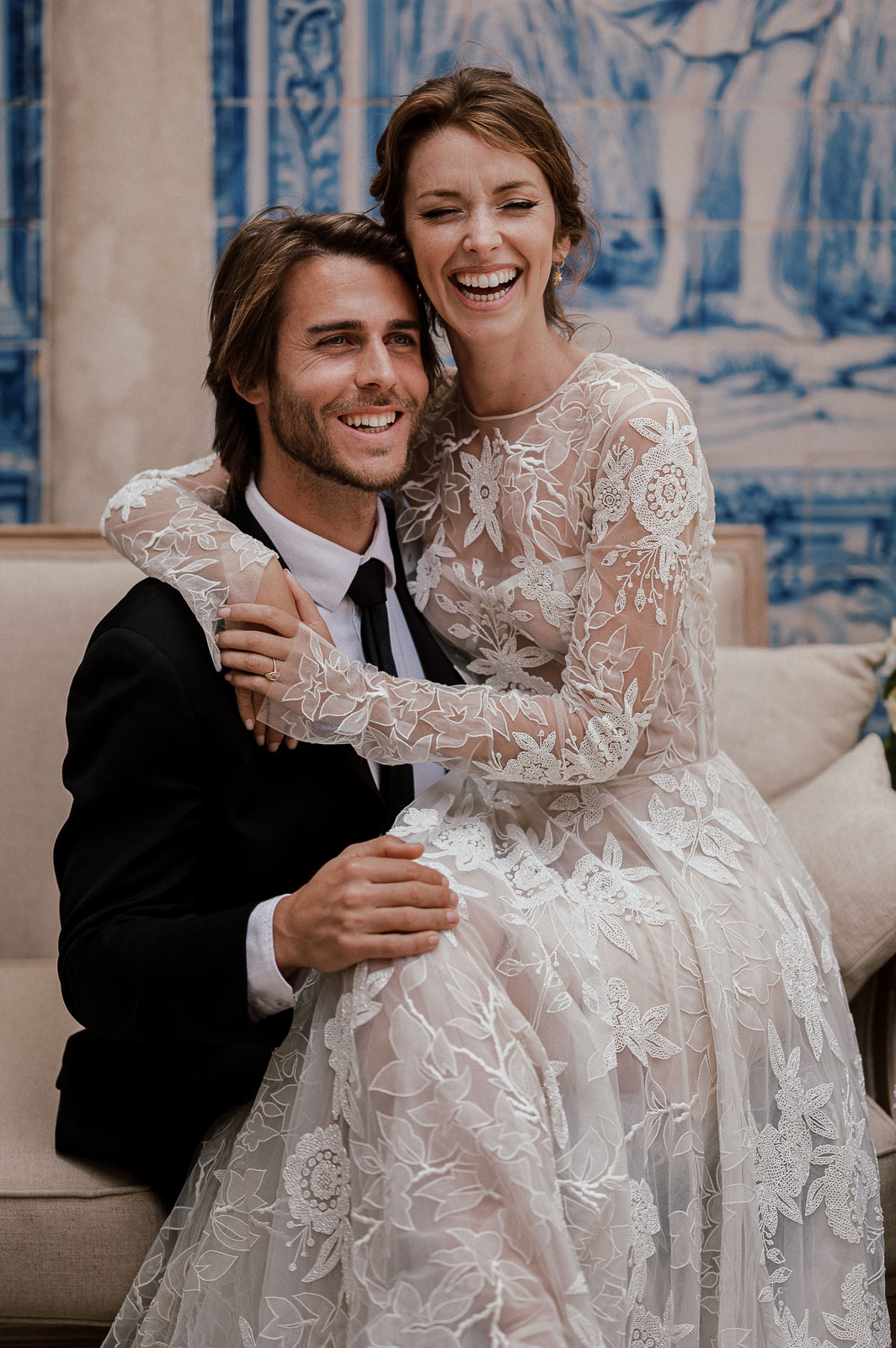 For this type of ceremony, at least one of you needs to be a Spanish citizen, or have lived in the country for at least 2 consecutive years.
You'll need to provide the following documents: valid passports or ID cards, birth certificates, and divorce or death certificates (if you are divorced or widowed). These documents need to be translated into Spanish and legalized with an apostille stamp.
You'll also need to provide a certificate of no impediment, which confirms you're free to marry. This document is issued by your home country's embassy or consulate in Spain.
A civil ceremony must be held at a government-approved location, such as a town hall.
For a Catholic ceremony, at least one of you has to be Catholic. You'll need to provide baptismal, communion and confirmation certificates, a pre-nuptial enquiry, and a declaration letter from your home diocese (if you're not a local resident). All of these documents need to be translated into Spanish and legalized with an apostille stamp.
If you're not a Spanish national, you'll also need to get special permission from the bishop of the diocese in which you intend to marry.
For other faiths, I recommend checking with the specific religious authority in Spain to see what their requirements are. Remember: these ceremonies aren't legally recognized, so you'll have to combine them with a civil ceremony!
You'll also need to provide legal documents, such as passports and birth certificates.
It's recommended to start the planning process at least 6 months before your wedding.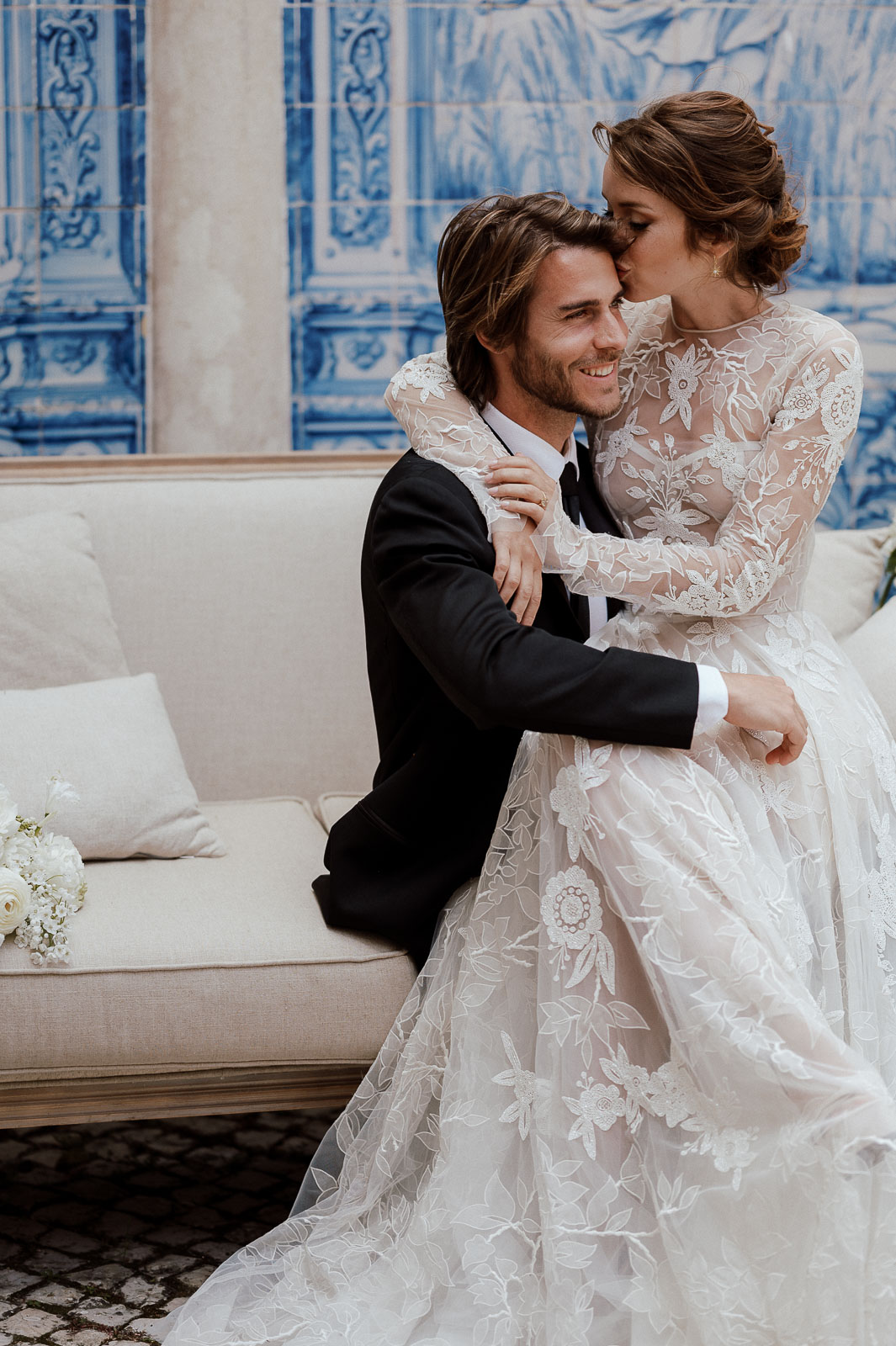 A symbolic wedding ceremony isn't legally binding, so there are no specific legal requirements or paperwork to complete!
However, to legalize your marriage, you'll need to have a civil ceremony before or after your symbolic one. You can do this in Spain, your home country, or another country.
For this type of ceremony, you can choose from a variety of beautiful wedding venues in Spain, including gardens, vineyards, beaches, villas, and castles.
4. Top wedding planners in Spain
But their job doesn't stop at handling logistics. Wedding planners excel in transforming your vision into a meaningful and unique wedding experience. From grand events in majestic castles to laid-back beach ceremonies, a good wedding planner will tailor your special day to genuinely reflect your personalities and values.
So if you're starting to feel the heat of planning a wedding abroad, remember that help is at hand! In this section, I'll introduce you to some top-notch wedding planners, who can make your wedding day both memorable and stress-free.
Planning a wedding in Spain can feel like an overwhelming task, with a multitude of details to consider. This is where hiring a professional wedding planner can be a game-changer!
Wedding planners bring a wealth of expertise to the table, along with local knowledge and a broad network of vendors. This means they can guide you towards the best wedding venues, caterers, and florists in Spain, while making sure everything runs smoothly on the day itself. They're also invaluable in helping you navigate all the legal requirements and paperwork needed for your wedding.
Meet your wedding dream team: Trouwen in Spanje! This trio of Dutch wedding planners operates from the stunning Costa del Sol in southern Spain. They're experts at crafting destination weddings that meet any desire and budget. Whether it's an intimate ceremony in a quaint Andalusian finca or a romantic beachfront celebration, these ladies make it happen!
With their Spanish proficiency, deep understanding of the local culture, and extensive network of reliable vendors, they ensure every detail of your wedding is handled. From logistics and catering to florals and entertainment – rest assured, they're on it. This allows you to kick back, relax, and truly immerse yourself in the magic of your special day.
5. Practical tips for planning a wedding in Spain
Planning a destination wedding in Spain is an exciting adventure, but it definitely comes with a unique set of challenges. It's not just about picking a stunning location or choosing the perfect date - the logistics play a crucial role too! Every detail matters, from arranging transportation to setting the schedule, and, of course, ensuring your guests have a wonderful time.
And while this might feel overwhelming, remember: you don't have to do it alone! A skilled wedding planner can help navigate all these practicalities. Plus, an experienced wedding photographer can clue you in on beautiful spots for your ceremony and photos, and give advice on the best times for capturing that perfect Spanish light.
With that in mind, let's delve into some practical tips that will set you on the right path, ensuring your Spanish wedding goes off without a hitch!
4. Plan local transportation
Logistics of transportation are another important factor to consider. If your ceremony and reception are in different locations, it could be a good idea to arrange transportation for your guests. Offering shuttle services from hotels to the wedding venue can also be a thoughtful touch!
5. Organize Some Fun guest activities
Your Spanish destination wedding is the perfect excuse for your guests to enjoy a mini vacation. To make their trip even more memorable, why not organize some fun activities? City tours, wine tastings, or beach days not only entertain your guests, they also offer a chance for everyone to bond before your big day.
6. Send save-the-dates early
Planning for a destination wedding in Spain means your guests need time to sort out their travel details. Try to send save-the-dates at least 8 months in advance to give them plenty of room to maneuver. After all, you want to give everyone a chance to join in and celebrate your special day with you!
1. Choose the right wedding venue
When picking your wedding venue in Spain, you're truly spoiled for choice. From majestic castles to rustic vineyards and charming seaside villas, you're sure to find a venue you love! But besides falling in love with the location, it's also important to consider practical aspects like guest capacity, accessibility, and the overall vibe you want to create.
2. Plan Your wedding Schedule
Spanish culture may follow a different timetable than you're used to. It's common for wedding ceremonies to take place later in the day, with festivities lasting into the early morning hours. Don't forget to take these Spanish wedding traditions and customs into account when setting your wedding day schedule!
3. Arrange accommodation for your guests
Spain offers a diverse range of accommodations, from luxury villas to quaint guesthouses. To make things easier for your guests, suggest a few options that cater to different budgets. Or, for an even more special experience, consider booking a private villa or hacienda to accommodate your entire wedding party.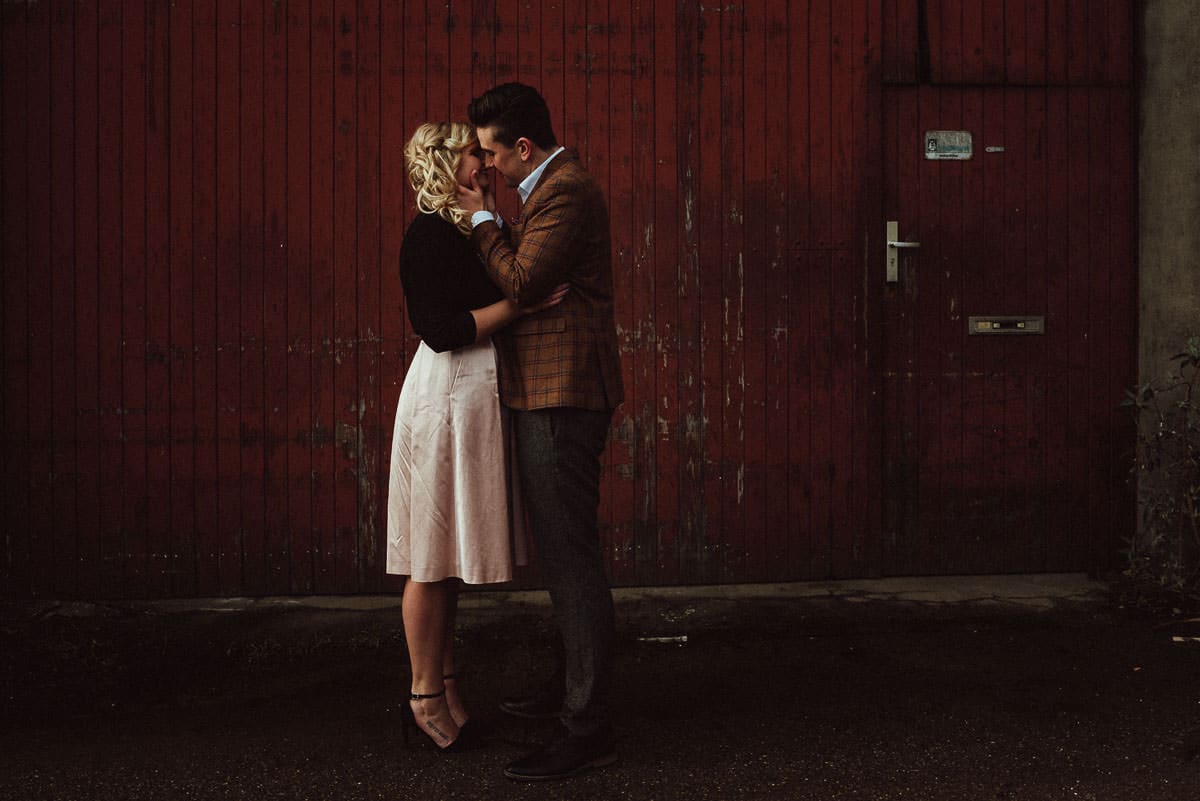 "We had seen Meral at work during one of our best friend's weddings and said to each other that whenever we'd get married: we were getting pictures from Meral! It was amazing and the pictures we received made our hearts beat even faster. Meral, thank you so much for your beautiful contribution to our day. Just for the sake of the pictures, we would do it all over again."