Planning a weekend wedding in Belgium? Then you're in luck! This country has some truly unforgettable venues perfect for a three-day celebration. In this guide, I've picked out five of the most beautiful weekend wedding venues in Belgium to share with you.
Whether you're looking for rustic charm, royal elegance, or something in between, this guide has something for every couple. So dive in and discover the ideal setting for your dream wedding!
Why you should say 'I do' at a weekend wedding venue in Belgium
Not only have I attended multiple weekend weddings as a photographer, I also celebrated my own wedding with a three-day party, so I can personally vouch for the magic they bring! There's just something enchanting about stretching your wedding festivities across an entire weekend. Curious about the benefits? Let's explore why a weekend wedding in Belgium could be the perfect fit for you.
1. Less rush, more memories
One of the best aspects of a weekend wedding is the luxury of time. Think about it: instead of cramming everything into a few hours, you've got days! Days for leisurely conversations over dinner, group photos without the rush, spontaneous dances, and maybe even a beautiful hike in the Ardennes. It's all about savoring every single moment and creating lasting memories with your loved ones.
2. Not just an event, but an unforgettable experience
While a single day of festivities is undoubtedly fun, spreading the joy over an entire weekend takes it to another level. Imagine welcoming your guests with a laid-back BBQ, dancing the night away under the stars, and then wrapping it up with a relaxed morning brunch overlooking the Belgian countryside.
You could even plan some group activities, like taking a historical tour of a nearby castle or sampling some of Belgium's world-famous craft beers at a local brewery. It's not just a wedding - it's a mini-vacation for everyone!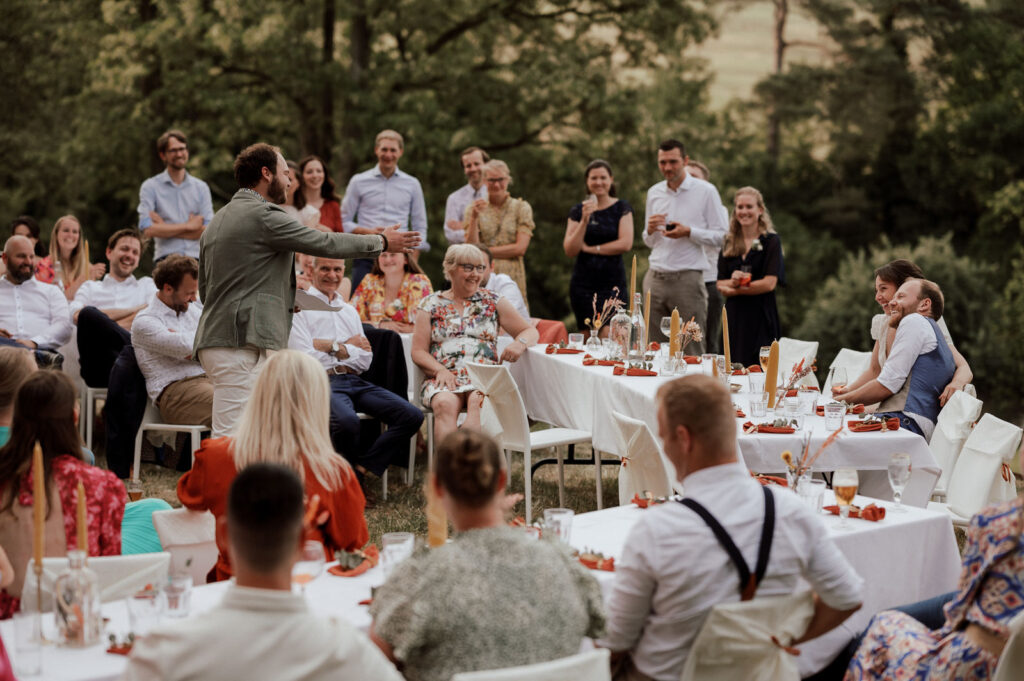 3. A wedding celebration that's 100% you
Having more time at your disposal means more opportunities to create an event that truly echoes your personality. Thinking of creating your own silent disco? Go for it! How about a cozy outdoor movie night with popcorn, or a chocolate-tasting session to try some delicous Belgian pralines? With all these personal touches, your wedding will be sure to feel 100% 'you'.
4. Ease-of-mind for your guests
Another perk of a booking a weekend wedding venue? It spares your guests the hassle of transportation. With most activities happening in and around the same location, they'll get that comforting bed-and-breakfast experience. This means they can relax, enjoy the festivities, and get a good night's sleep before jumping back into the fun the next day.
It's all of the joy of a traditional wedding, without any of the hustle!
The best wedding venues in Belgium for a weekend celebration
Belgium offers an array of amazing venues, from rustic farmhouses to enchanting castles and majestic estates. As a photographer who's had the pleasure of capturing some of these incredible settings, I'm eager to share my top picks with you.
Here are some the best wedding venues in Belgium for a magical weekend with your loved ones!
Chateau de Goyet: a fairytale castle in the Ardennes
First on the list is Chateau de Goyet, one of the most enchanting wedding venues Belgium has to offer. Nestled in the picturesque Ardennes, this stunning castle fuses historic ambiance with modern luxury and top-notch gastronomy. Step into a fairytale as you pass through the grand entrance – which is the perfect setting for those magical wedding photos you've always dreamed of!
But the magic doesn't stop there. The venue's interior is both cozy and elegant, featuring rooms that have been thoughtfully renovated to accommodate up to 40 overnight guests. Imagine waking up in an actual castle and gazing out at panoramic views of the surrounding hills, valleys and forests. Sounds dreamy, doesn't it?
Domein 't Eikennest: an idyllic retreat in the countryside
If you're looking for a countryside venue that combines scenic views with a touch of exclusivity, then Domein 't Eikennest is the spot for you. Situated close to the Belgian coast, this charming location is surrounded by endless polder landscapes that are simply breathtaking!
What's more, Domein 't Eikennest offers 3-day packages perfect for a weekend wedding. These include not only venue rental, but also comfortable accommodations for up to 40 people and a dreamy bridal suite for you and your partner. So if you're after a stylish wedding venue with a laid-back atmosphere – not to mention stunning vistas – this venue deserves a spot at the top of your list.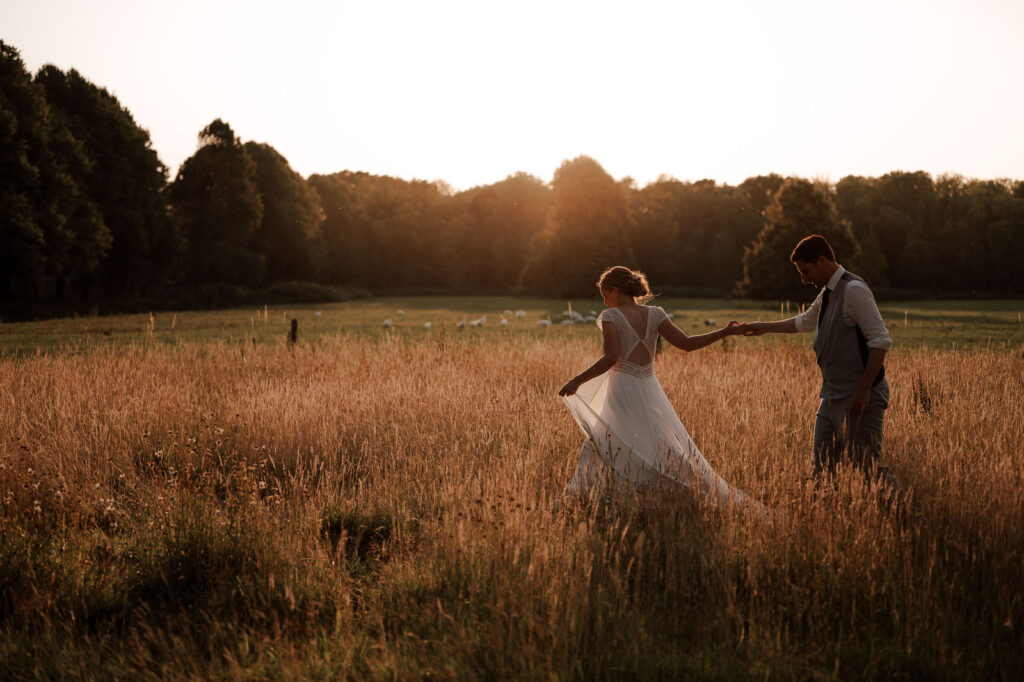 Auberge du Pêcheur: an elegant venue with river views
Dreaming of an elegant wedding venue surrounded by idyllic scenery? Then look no further than Auberge du Pêcheur! Set on the serene banks of the Leie River, this renowned venue offers a variety of unique event spaces. Its standout feature is the Orangerie, an architectural gem with high ceilings, oak beams, and captivating river views.
Auberge du Pêcheur offers the ideal setting for weddings of all sizes, with the capacity to accommodate up to 500 guests in the summer. The venue also features a 32-room hotel, allowing you and your guests to celebrate into the night without a care in the world. In short, this exceptional venue promises a magical celebration you'll cherish for a lifetime!
Domein Wolvenbos: a luxury wedding venue in Belgium
Just a quick drive from Antwerp, Domein Wolvenbos feels like stepping into another era – but with all the modern perks! Set against the backdrop of a 19th-century estate, this luxurious venue gives you the option of either a grand castle or a romantic garden for your wedding festivities. It's a truly versatile venue that's perfect for any season.
Whether you envision a spring wedding surrounded by blooming roses or a cozy fall reception beside a roaring fire, Domein Wolvenbos has got you covered. Plus, to make your stay as memorable as your big day itself, the venue also offers three luxury suites for you and your guests. Trust me: if you want to feel like royalty on your wedding day, this is the place for you!
La Ferme de Balingue: a historical estate surrounded by nature
Finally, for a rustic yet elegant setting for your Belgian wedding, check out La Ferme de Balingue. Dating back to 1230, this beautiful estate is home to a variety of indoor spaces, each one radiating old-world charm. Whether it's a quaint 18th-century barn with picturesque garden views or an intimate gallery complete with a fireplace and dance floor, you're sure to find a spot that suits you perfectly!
The estate also offers several outdoor locations, including a central courtyard, peaceful gardens and a lakeside terrace overlooking an orangerie. And when it comes to staying the night, there's plenty of room for up to 42 of your closest friends and family! So if you're in search of a historical venue surrounded by natural beauty, Ferme de Balingue might just be your dream spot.
Which of these beautiful wedding venues in Belgium would you pick for your special day?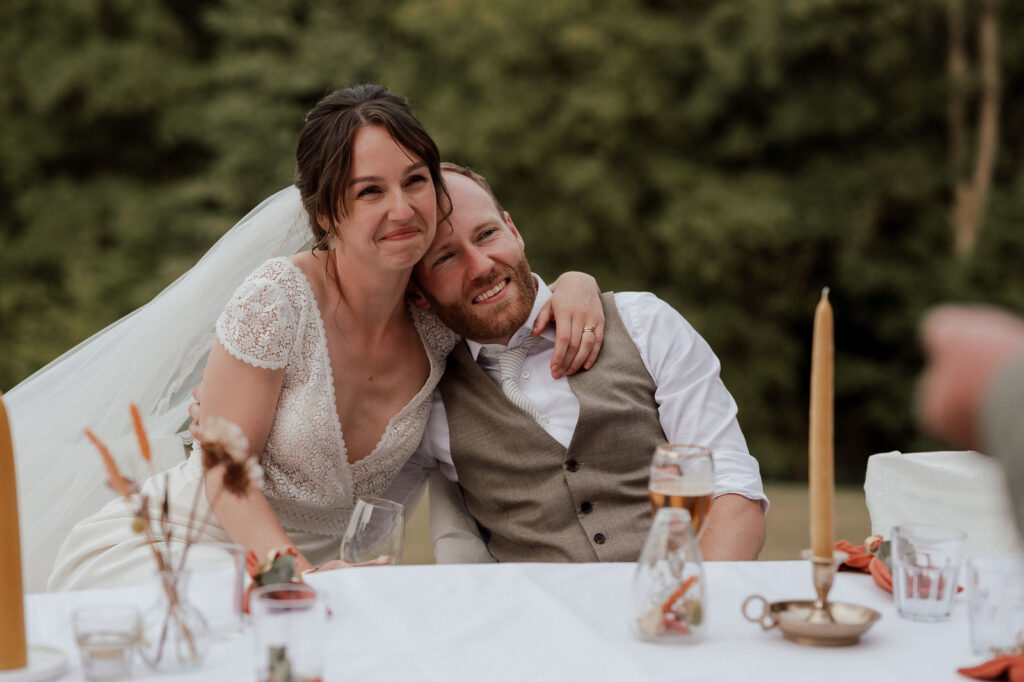 Are you looking for a photographer for your wedding in Belgium? Get in touch for a proposal.